Motor home FAQ's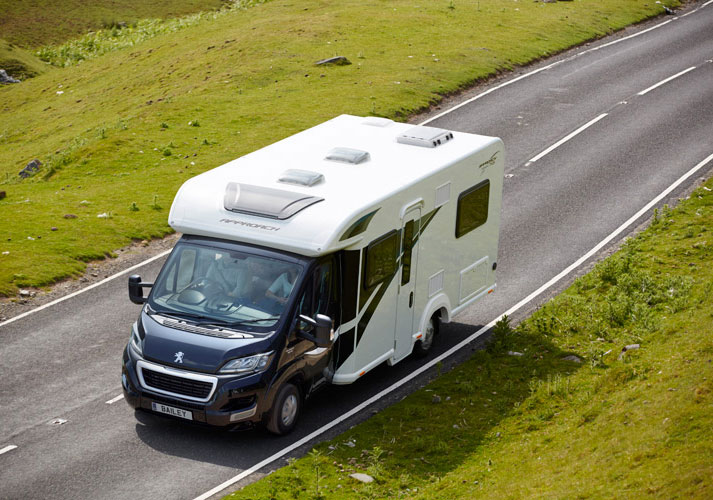 What's the minimum period I can rent a motor home for?
The minimum rental period is 3 nights.
What day & time can I collect my motor home?
Off season
Collection days Monday to Friday all motorhomes are available for collection between 9am -4pm and must be returned the same as collection time during off season (Jan to June & Oct to Dec).
Peak season
Collection days Monday to Friday all motorhomes are available for collection between 1pm-4pm and must be returned between 8am - 11am during peak season (July-August-September).
Please note that Saturday collections are between 8am -11am all year round (no Sundays or Bank holiday collection/returns)
Is the vehicle Insured?
The cost of insurance is included within the price of the motorhome for the booking period. You are between 25 and 72, with a clean driving licence, which has been held for over two years, extra drivers can be added for an additional cost, and we will also need to know of any convictions or endorsements on your licence. Certain motorhomes do require a C1 category.
What ID do I need to bring on the day?
On the day of collection, we will require your photo card driving licence and one form of proof of address. These can be utility bills, TV/Internet Bill, Bank or Credit Card Statement, Mortgage Statement, or Council Tax Bill. These must be dated within 90 days of the hire.
Where can I leave my car for the duration of the hire?
We provide secure parking for the period of the hire of the motorhome. We accept no liability for any loss or damage to your vehicle.
Can I smoke in the vehicle?
As per the UK guidelines for hotels, restaurants, and other public places, we do not allow smoking in our motorhomes or vaping.
How do I Pay?
Our insurance policy requires that all payments are 100% traceable, which means that we cannot accept cash. All payments must be made on the Debit/Credit card of the driver, no 3rd party cards accepted.
Do you need a deposit, or full payment when booking?
We require a 25% non- refundable deposit at the time of booking or full payment if within 6 weeks of your collection date. The outstanding balance is due 6 weeks before the collection date. A bond is due to be paid on collection of the motorhome and this is held until the motorhome has been returned and inspected. The bond is refunded within 3-5 working days, after the return of the motorhome, if no damage has been caused to the motorhome. The bond is £1,000 for the duration of the hire.
Am I allowed to change my booking?
We understand that planned trips away can be disrupted from time to time and if this should happen, you can alter the date of your hire. You would need to contact us directly, so that we can assist you with your new dates. We are unable to guarantee that the same motorhome (or any motorhome) will be available for your requested change of date.
You are unable to transfer or gift the booking to another person
Does The Motorhome include a tank of fuel?
All our motorhomes have a full tank at the start of the hire, and we ask that you return it with a full tank. Fuel stations are within a 2-mile radius of the hire centre suitable to take the motorhome.
Do you allow pets when hiring the motorhome?
We are 100% dog friendly and welcome up to two dogs to stay in our motorhome. There is a one-off additional charge, and this can be added when making your on-line enquiry.
Do I need Gas?
We do supply 2* 6Kg bottles on the start of you holiday, if you do require any additional whilst on your vacation, we ask that you keep the receipt, and we will refund you on return.
Some models do have underslung gas tanks and require re-filling at petrol stations that provide this service.
Can I take the Motorhome abroad?
Sadly no, our Motorhomes are strictly UK mainland only.
Are there any extras available for my holiday?
Yes, we can supply for an additional cost: - BBQ – Welcome Pack – Table & Chairs – Bed linen
What is included in my motorhome when I collect?
Kitchen: Kettle – Saucepans – Frying pan – Tin opener – Spatula set – Chopping board – Plates – Bowls - Mugs – Plastic glasses - Cutlery – Sharp Knife – Microwave plate & bowl - Microwave
General equipment: Levelling ramps – Hook-up cable – Hook-up plug adaptor - Water pipe - Fire blanket/Extinguisher Warning triangle – First aid kit – Gas Spanner – 2* Gas bottles – Dustpan & brush – TV remote – Toilet blue